Trust Your Loved One to Our Care
It can be difficult to know how to manage in home nursing care for a loved one when they have experienced surgery, a difficult fall, a chronic illness, or may be suffering from dementia or Alzheimer's. At Collier Home Care, leave it to us to find the perfect skilled nurse to take care of your loved one in the comfort of their home.
As a nurse registry, our clients rely on us to discover the perfect matches for their loved ones' care. We pride ourselves on creating relationships between your loved one and our expansive network of home nursing care champions, from Home Health Aides (HHAs) and Certified Nursing Aides (CNAs) to highly skilled Registered Nurses (RNs) and Licensed Practical Nurses (LPNs) to render care appropriately, given each client's circumstances.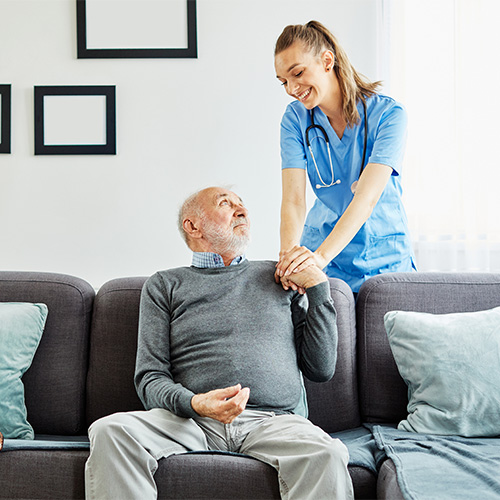 Nursing Oversight
Our skilled nursing professionals provide oversight and management of all aspects of care to ensure that the patient's health needs are met.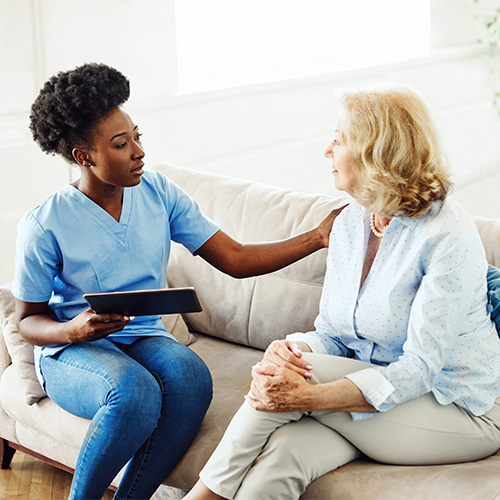 Medication Set up, Administration, & Management
Our skilled nursing professionals can assist with medication management, including setting up and administering medications as prescribed.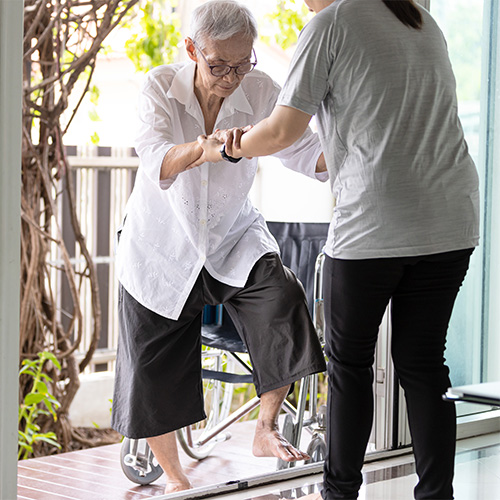 Wound Care
Our skilled nursing professionals provide specialized wound care services, including assessment, treatment, and monitoring of wounds to promote healing and prevent infection.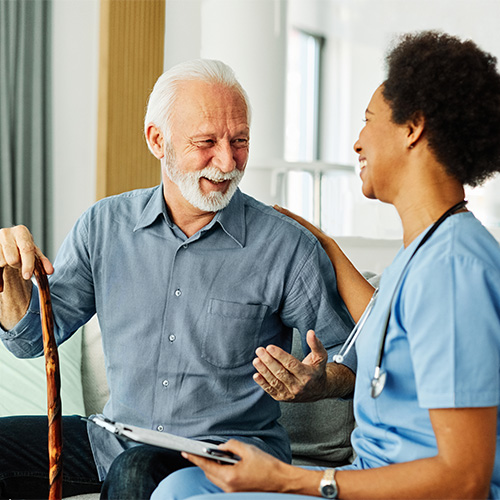 Blood Sugar Testing
Our skilled nursing professionals can provide regular blood sugar testing and monitoring for patients with diabetes, to help manage their blood sugar levels and prevent complications.
Medical Support and Flawless Companionship
In the case of an event such as a surgery or fall, or in the case of a progressive cognitive illness such as dementia or Alzheimer's, we would pair your loved one with skilled nursing care, either an RN or an LPN to ensure they receive the maximum available care in terms of their health, whether these are physical or mental health concerns, or even both. There may be a need to als involve some others in our network, such as CNAs or HHAs, depending on each patient's circumstances. Our network of RNs and LPNs is made up of caring, compassionate nurses whose concern for patient care is matched equally between their companionship skills and their medical expertise.
We are fortunate to work with nurses who care deeply for their patients and work tirelessly to ensure they are supported in every way possible. RNs and LPNs are capable of making medical determinations on their own; however, they do work directly under the direction of your loved one's physician to ensure seamless care and communication. They work independently, but they do have physician support. Their skilled nursing care comes with a considerable degree of independence and initiative, and it isn't necessary for our RNs or LPNs to be physically supervised by the physician.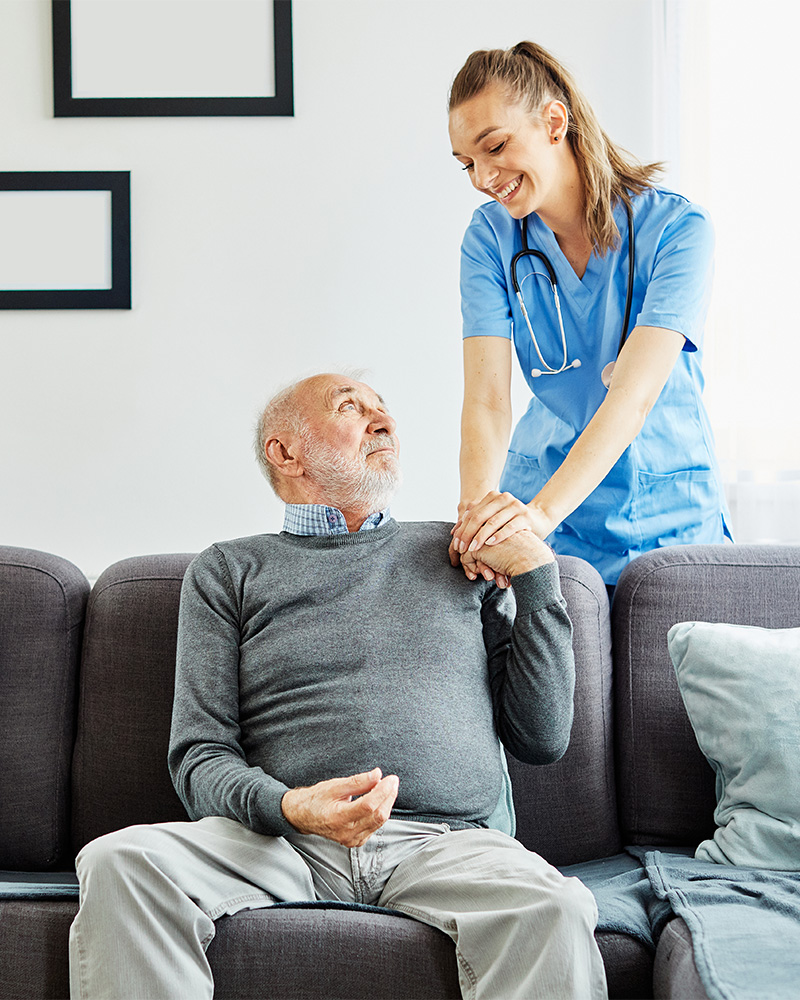 The Unique Benefits of Nurses
The benefit of an RN or LPN in this atmosphere is largely to see to the patient's medical care as part of their in home nursing care. They have a unique skill set that allows them to be two parts nurse, one part companion. We enjoy working with all of the nurses throughout our network and matching them to your loved ones. Furthermore, should the need be introduced for greater staffing from our pool of experienced CNAs and HHAs, a nurse works with these skilled professionals to increase the level of patient care.
After a surgery (which is always a major trauma to the body) or a serious fall, it's essential that healing begin as promptly as possible, and continue as the patient tolerates it. Our network of nurses have specialized in home care skills with senior patients, working to ensure they assist in rehabilitating the patient while also providing camaraderie, kindness, and companionship. Our skilled nursing services include injections, wound care, medication administration and management, and much more. The importance of being at home cannot be understated: simply being in familiar place, with familiar sounds and smells, and the ability to move about freely (as tolerated) all lead to patients healing faster. One study has also found that the cost of being treated at home versus being treated in a hospital following surgery or a significant fall is lower by up to 40%, and patient readmission rates drop to nearly 70%, if they receive post-op care at home instead of in the hospital.
The Importance of In Home Nursing Care
Skilled nursing care is an essential factor in providing the specificity of care required by patients suffering from Alzheimer's or dementia. One article suggests that "the demand for Alzheimer's and dementia nursing care continues to grow. Nurses with gerontological specialties and training in these conditions play a crucial role in helping these patients maintain their quality of life and remain independent as long as possible." Ensuring that your loved one's quality of life is maintained while managing the particular symptoms, medications, and lifestyle accommodations required for Alzheimer's and dementia patients is the main goal for the RNs and LPNs we work with at Collier Home Care. We are committed to ensuring our clients' loved ones can life safely, securely, and independently in their homes. While cognitive illnesses can be very difficult to witness, our network of in home nursing care professionals, from RNs and LPNs to CNAs and HHAs, is here to help your loved one enjoy a life of utmost dignity and highest quality.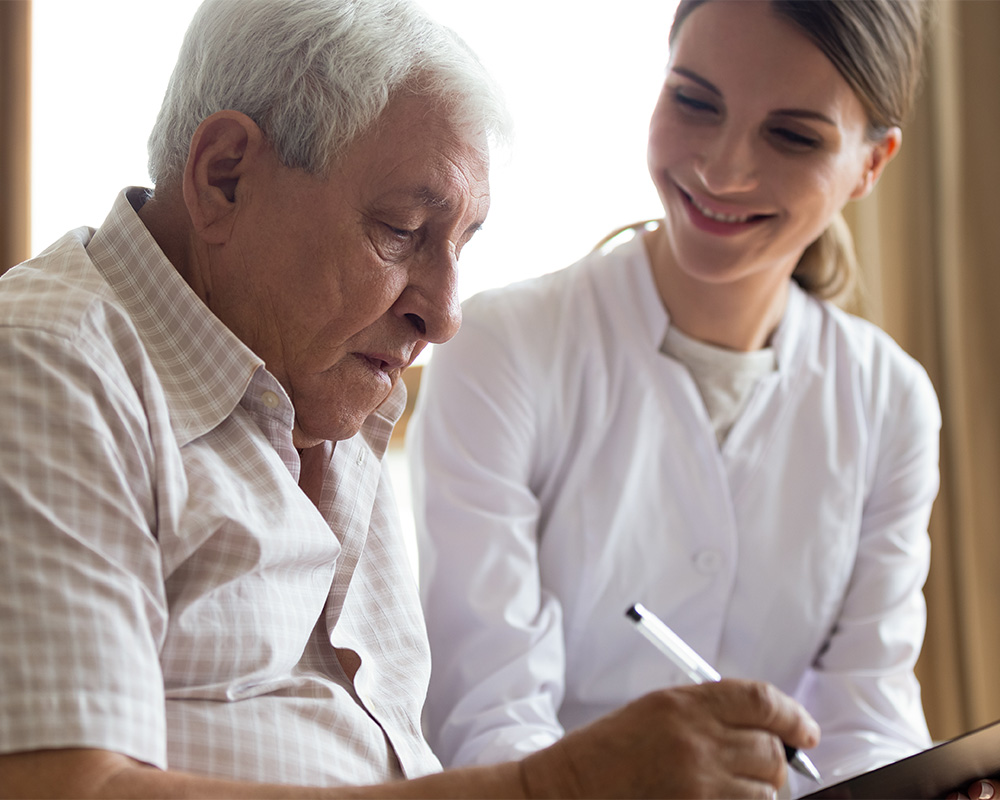 Skilled Nursing Care - Get Started Now
Contact Collier Home Care Now
Please contact us with any questions or comments you have about our company or our in-home care services. We have an On Call service that reviews inquiries after hours and on the weekend. We are here to serve our clients in the greater Naples, Florida region through homecare services.
For a more immediate response,
please call our office number below:
"*" indicates required fields